Round Acrylic Jars
The J03 low profile 15ml series acrylic jars offer a clear outer jar and outer cap with a clean white inner bowl and inner cap.  The shiny silver trim at the edge of the outer cap adds a nice high-end touch to this exquisite jar.

O J03015 L 
Details: low profile 15ml double wall acrylic jar (150/ctn) & cap (300/ctn)
Quantities: order in increments of 300 sets
Prices: $0.75/piece starting at 300
$0.703 for 5000-9999
$0.68 for 10,000-24,999
$0.66 for 25,000+
Product Details
---
Acrylic Dip Tube Bottle
This adaptation of the classic dip tube bottle has an inner bottle that appears suspended within the protection of the durable crystal clear acrylic outer wall. The shiny silver shoulder and collar shine brilliantly through the clear acrylic cap, coupled with a sturdy product weight, commonly characterized as a sign of quality.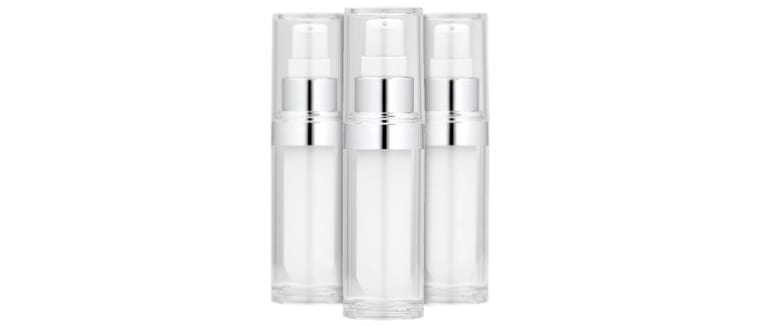 P CSY015
Details: 15ml acrylic dip-tube bottle, clear outer bottle, white inner bottle (243/ctn), pump (1100/ctn) and cap (648/ctn)
Quantities: order in increments of 243, 648 or 1100 sets
Prices: $0.88/piece starting at 243
$0.845 for 5000-9999
$0.82 for 10,000-24,999
$0.792 for 25,000+
Product Details
LET'S TALK
PACKAGING